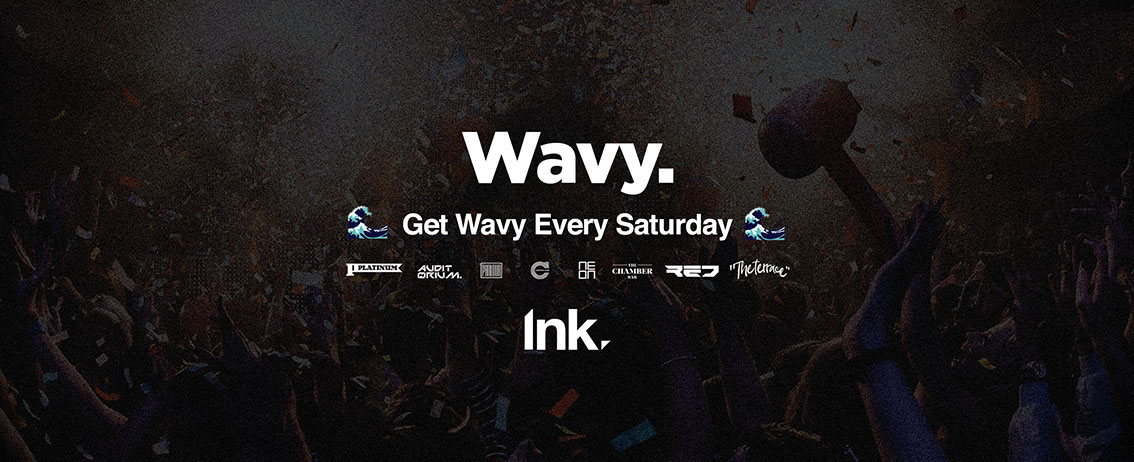 🌊🌊 Wavy! Saturdays 🌊🌊
Ink's all new Saturday night, lose your inhibitions With Drinks from £2, skank on your good foot, indulge the senses and get Wavy. Debuting as your all new Saturday night, you wont be disappointed with Wavy's Eclectic mix of Commercial Bangers plus new musical delights and the Biggest Saturday night in Nottingham!
Housed in an abandoned theatre of mayhem with Nottingham's musical institute INK. presents it's Saturday night musical Spectacular – Wavy! The forward thinking, boundary breaking club with 4 Arenas and 8 bars offers a immersive tech forward atmosphere, Festival lighting and Funktion 1 sound rigs to ensure the night isn't one to forget. 
Not to mention Ink Sessions Countless funhouse elements such as our Infamous Giant Inflatables, Balloon Invasions, Confetti Explosion and Co2 Blasts and Streamers. Expect serious mayhem from 10:30 til' they kick us out. 
Secure your tickets or place your names on the Facebook Guestlist early to avoid disappointment, this event sells out every week.
Music: House/Bass/Tech/R&B/Hip Hop/ Disco/Funk/Nostalgia / Commercial
Drinks from £2
4 Clubs, 8 Bars, 1 Destination.
▬▬▬▬▬▬
Club Rooms:
◤ Trash Mansion
Our main room – boasting the worlds most cutting edge light and sound equipment paired with our hand picked residents, this room has been created to give an unforgettable experience with DJ's playing the best in UK and International House as well as your favourite club bangers and everything inbetween.
◤ Neon
A club within a club, known for it's revolutionary LED matrix grid ceiling and state of the art digital video wall – Neon is designed to create the ultimate clubbing experience where you may well loose your mind whilst DJ's play out the biggest tracks.
◤ Cocktail
Time to take a breather, join us in Cocktail for a moment of release where you can sip on your premium spirits of choice and lounge in our booth seating areas whilst the party continues around you. Listening to the best in Throwback nostalgic Classics, and a mixture of Funk, Soul + Disco.
◤ Parlour
Located deep inside the club – Parlour gives you the opportunity to take a step away from the iconic basslines being played beneath your feet and exercise your vocal chords with DJ's spinning the best in r&b/hip hop nostalgic and new.
▬▬▬▬▬▬
Bars:
◤ Red
◤ Platinum
◤ Chamber
Read more about our rooms.
www.clubink.co.uk/explore.html